Nie przepadam za paryskim stylem w mieszkaniach. Jest dla mnie zbyt eklektyczny, trochę jakby niechlujny. Ten apartament z paryskich wnętrz ma tylko rozmiar a poza tym mieści się w Lyonie.
//When I was in Paris I lived in the studio of the artist on the top floor of a building with a view of the Eiffel tower. It was great. Today I show a tiny, well-furnished Parisian apartment.//
Jak zapewne wiecie mieszkania w stolicy Francji jak i większych miastach są często bardzo małe bo potwornie drogie. Za to urocze! Miałam okazję kiedyś mieszkać w Paryżu w apartamenciku malarza polskiego pochodzenia. Jego mieszkanie i pracownia jednocześnie mieszczą się na ostatnim piętrze jednej z kamienic. Apartament posiada balkon na rogu kamienicy a leżąc w wannie widać czubek wieży Eiffla. Cudowne wnętrze, wspaniały klimat stworzony przez tego paryskiego artystę. Mam nadzieję, że będę jeszcze miała okazję tam wrócić. Kocham to miasto! Z tą większą przyjemnością prezentuję Wam ten 35metrowy apartamencik w Lyonie. Nic więcej by mi nie było trzeba, no może żeby się mieścił jednak w Paryżu :)

You might also like:
Tiny, beautiful and very cosy!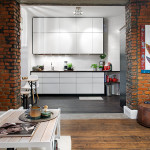 Comments
comments