Jeśli można odszukać piękno w klęskach żywiołowych i innych zniszczeniach to projektantka Jenny Ekdahl to zrobiła. Zainspirowana przemianami fizycznymi i psychologicznymi występującymi bezpośrednio po katastrofie, stworzyła komodę, której front tworzy 4 tysiące płytek na wzór rybich łusek.
Jedna strona każdej płytki jest w naturalnym kolorze drewna a druga została pomalowana na odcień błękitu lub szarości. Dzięki temu systemowi ruchomych, kolorowych płytek mamy wpływ na wygląd komody. Możemy budować fale, bardziej abstrakcyjne motywy lub bardziej graficzne.Projekt o przewrotnej nazwie Dear Disaster jest bardzo oryginalny i wzbudził moją dużą sympatię i podziw.
/If someone can find beauty in natural disasters, designer Jenny Ekdahl did it. Inspired by the physical and psychological changes that occur immediately after the disaster, has created a cabinet, with 4000 pieces on a front.//

You might also like:
My vacation – searching for inspiration,relaxation, happiness, family, love, new friendships.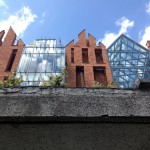 Comments
comments