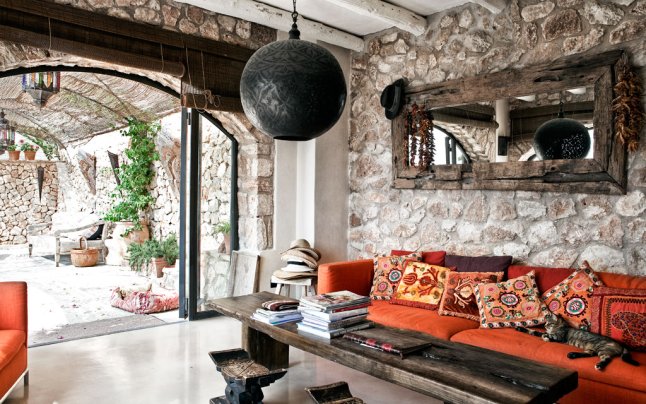 Raczej Was zaskoczę tym wnętrzem w zestawieniu z tytułem jaki nadałam tej publikacji. Znalazłam idealny dla siebie dom. Fantastyczne, genialne wprost połączenie stylu rustykalnego, industrialnego i marokańskiego. Ten ostatni odkryłam na nowo podczas mojej wizyty na Ambiente we Frankfurcie i tedy też zakochałam się w marokańskich dodatkach. Ażurowe lampy cudownie rozpraszają światło i puszczają zalotne zajączki na ścianach. Od czasu Ambiente poluję również na marokańską, dużą, miedzianą tacę, którą chce położyć na moim DIY stoliku ze skrzynki po jabłkach:) To będzie takie połączenie jak w prezentowanych dziś wnętrzu:) #inspiracja!
//Today I  surprise you this combination of interior and title of this publication. I found perfect home for me. Fantastic, brilliant direct connection rustic style, industrial and Moroccan. Moroccan style I've discover again during my visit at Ambiente in Frankfurt and then also i've  fall in love with Moroccan accessories. Openwork wonderfully light scatter the light. Since the Ambiente I've also hunt for Moroccan, a large copper tray. I want to put on my DIY table of apple box :) It will be such a combination of style like in this interior. #inspiration :)//

You might also like:
Old hospital cabinet in my living room!
Comments
comments