W tym miejscu nic nie jest tym na co wygląda. Hotel nie hotel ma pokoje nie pokoje i wcale nie mieszka w nich Kevin Bacon. Nawet ich nie zaprojektował ani nie rozbił butelki szampana o drzwi jak to się robi, gdy nazywa się statki.To absolutnie wyjątkowy projekt, ale nie chaotyczny. Z głębszym dnem i ideologią.
Hotel Not Hotel znajduje się w Amsterdamie i został stworzony przez grupę designerów, wywodzących się z jednej z najznakomitszych szkół Eindhoven Design Academy. Każda przestrzeń, każdy pokój a nawet bar ma swoją historię. Za każdym projektem chowa się pomysł, inspiracja ukryta jest historia Amsterdamu. Tak jak pokój tramwaj. Powstał na cześć sieci tramwajowej, która działała w Amsterdamie o 1875.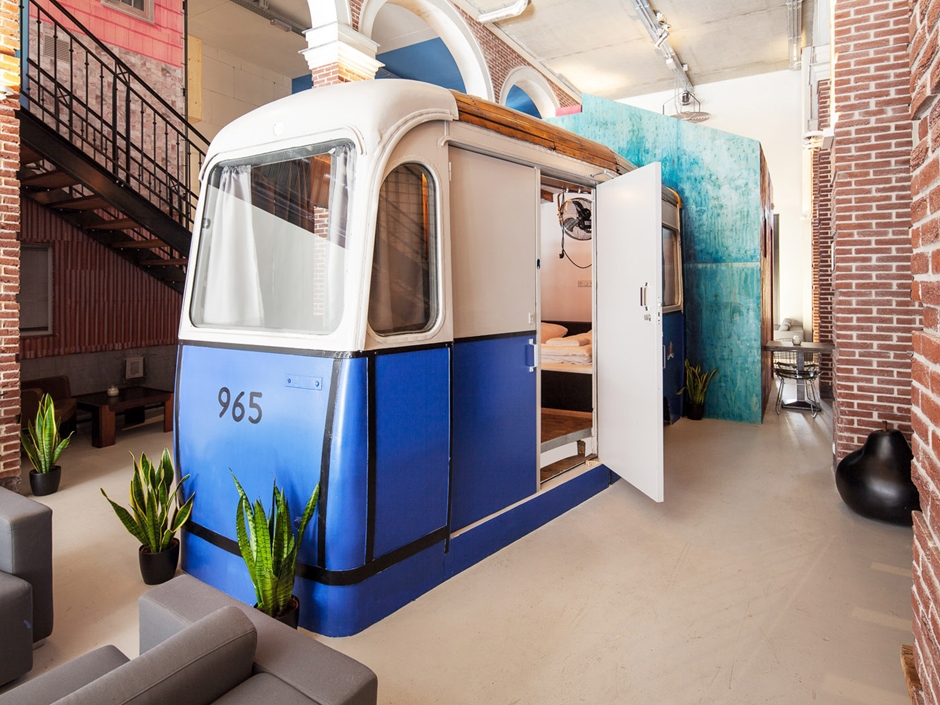 Są też sekretne pokoje, do których wchodzi się przez drzwi ukryte w ogromnym regale z książkami ustawionym na antresoli.
Mnie najbardziej urzekły pokoje nastawione na ukrycie gości, odcięcie od całego zła. Zapewniające komfort, ciszę i relaks. W pokojach o nazwie Crown's nest czy Crisis Free Zone masz gwarancje odpoczynku po dniu pełnym atrakcji.
Bar z kolei nazwano imieniem znakomitego aktora Kevina Bacona. Tak jak bezpretensjonalną i profesjonalną postacią jest aktor taką samą przestrzeń chcieli stworzyć designerzy. To miejsce na poranne śniadanie z przyjaciółmi, czy szybą kawę w drodze do biura. Doskonałe na wieczorny drink czy kolację we dwoje. Nie oficjalne, swobodne, designerskie. Takie Holenderskie.
//The bar connected to Hotel Not Hotel is called Kevin Bacon. Just like the actor, the bar has zero pretention, it always delivers, and it makes sure everybody has a good time.
Kevin Bacon is not your typical hotel bar. It's where locals get their morning coffee or a quick breakfast. It's where friends meet for a cocktail or a beer before diving into the nightlife, and where hotel guests let their hair down after a long day in the city.
Amsterdam has been known for its intricate tram system since it was implemented in 1875, that's why one room has been designed  inside the tram. The Crisis Free Zone is the only place on earth (at least at our ground floor) where you can truly get away from the daily drag of negative news and spiralling economies. //
source: hotelnothotel.com
Comments
comments