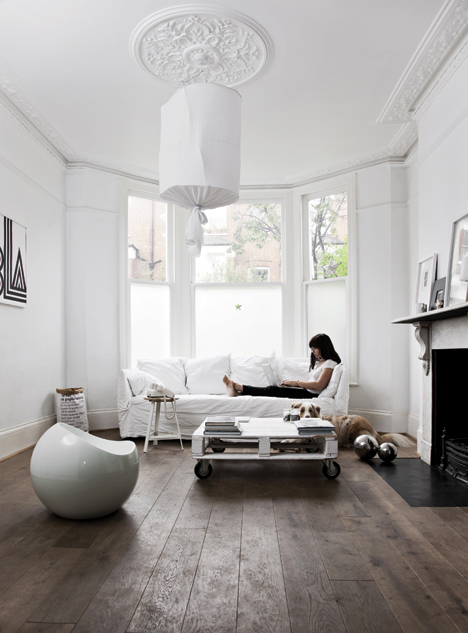 Wielbiciele skandynawskiego, lekko rustykalnego stylu, których wśród Was jest sporo, znają pewnie Bodie and Fou. To jedne z lepszych sklepów on line, w którym znajdziecie różne produkty do aranżacji i dekoracji wnętrz właśnie w tym stylu. Dziś jednak nie o sklepie a o właścicielce a właściwie o jej domu.
Karine Kong mieszka w pięknym, jasnym i przestronnym domu. Białe ściany, drewniana podłoga, piękna sztukateria to wspaniały fundament i najlepsza scenografia dla prezentacji mebli i dodatków, które dostępne są również  w jej sklepie. Z5 lampa projektu Nelsona Sepuvelda, papierowa torba Le Sac, liczne plakaty typograficzne to ulubieńcy Karine i moi. A Wam jak się podobają te wnętrza?
//Fans of Scandinavian, rustic style, which among you is a lot, probably know Bodie and Fou. This is one of the best online stores where you can find a lot of  products for interior decoration and interior design. Karine Kong, Bodie and Fou owner, lives in a beautiful, bright and spacious home. White walls, wooden floors, beautiful molding is a great foundation and best set design for the presentation of furniture and accessories that are also available in her shop. T5 lamp design Nelson Sepuvelda, paper bag Le Sac, and few of  typographical posters are my and Karine favorites. And how you like the interior?//

source:  Boligliv, photos: Morten Holtum

You might also like:
D.I.Y. Jute pillows!
Comments
comments