Wakacje to czas podróży, poznawania nowych miejsc i ludzi. Przez całe lato będę Was zabierać w różne części świata i prezentować najciekawszą architekturę, niebanalne wnętrza, genialne rozwiązania.
Zaczynamy od Paryża. Dla mnie druga po Nowym Jorku stolica świata. Uwielbiam to miejsce ale już o tym wspominałam nie raz.
Dziś zapraszam do restauracji Anahi. To jedno z miejsc należących do francuskiego przedsiębiorcy i biznesmena Cédrica Naudon, który postanowił stworzyć cały dystrykt z barami, klubami, sklepami oferującymi produkty od lokalnych dostawców.
Na szczególną uwagę zasługuje fakt, iż Cédrico Naudon, kupując tą restaurację od pierwotnych właścicieli postanowił zachować jak najwięcej oryginalnych elementów. I tak ściany zdobi oryginalna 20 letnia ceramika a ubytki wypełniono miedzią. Równie malowniczą dekoracją jest sufit, bogato zdobiony freskami. Mnie szalenie podobają się krzesła, które dodają szyku i blasku temu wnętrzu, jak również lustra, które też dotknął już ząb czasu ale tak bardzo kojarzą mi się z paryskim stylem i elegancją.
Piękne miejsce.
//Cédric Naudon bought Anahi and 35 other businesses in the area, to create a design-led village of restaurants, bars and boutiques where the produce is sourced nationally. The former charcuterie built at the turn of the 20th century features a unique Art Deco style ceiling and a discreet fresco along the tops of the windows. Maud Bury has used copper leaf, which in time will oxidise to give a more subdued effect, grout to fill the cracks in the wall, which ties in nicely with the solid bronze-backed chairs. //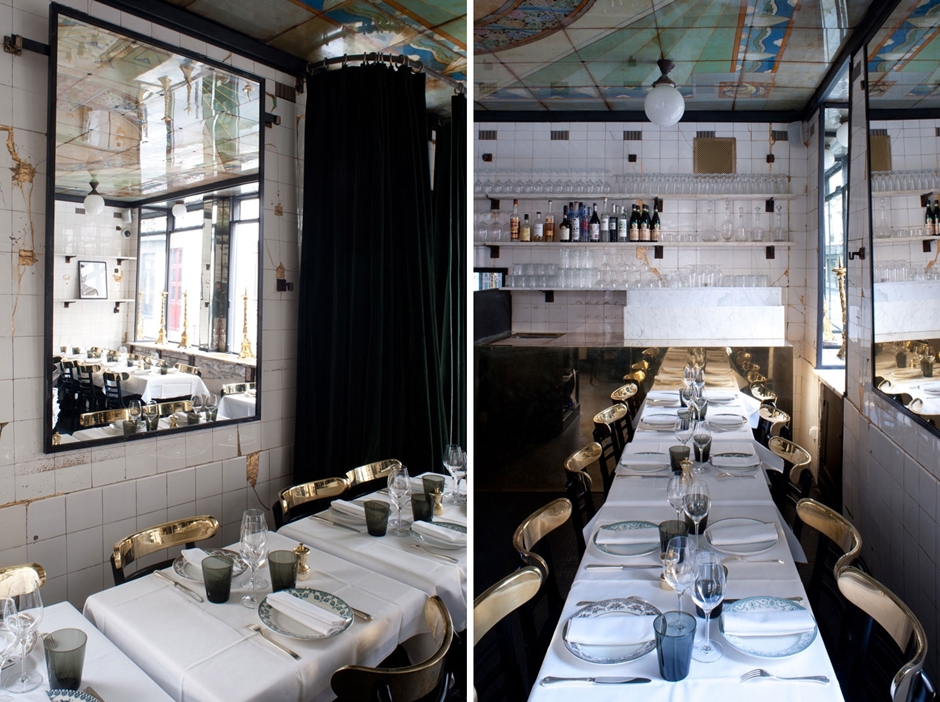 source: Yatzer
Comments
comments